Croí Conaithe
In 2022, the Irish Government announced a funding scheme called Croí Cónaithe to help support home owners to bring vacant buildings back into use.
The (Towns) Fund scheme provides a grant up to a maximum of €30,000 for the refurbishment of vacant properties in Irish towns and villages with the stipulation that properties are to be used a principal private residence.
Where works are expected to exceed the standard grant of €30,000 and where the property is derelict, a top up grant of up to €20,000 is available, bringing the total grant available to property owners of derelict vacant buildings to €50,000.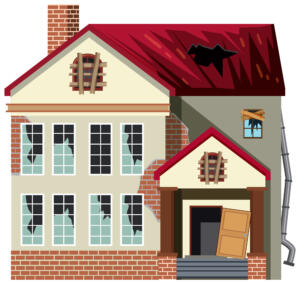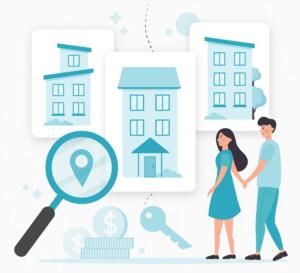 What does the scheme involve?
Croí Cónaithe applies to owners of vacant buildings as well as those with a housing need who can prove their intention to purchase a vacant building for refurbishment as a primary dwelling.
To quality for the scheme a property must:
Be vacant for two years or more
Be built before 1993
Have vacancy validated and verified by local authority prior to grant approval
A local authority may give approval in principle to a grant application where the applicant can provide evidence of active negotiations to purchase a property.
This can include confirmation of engagement with the estate agency involved or the owner of the property who can provide evidence of vacancy. Approval in full will only apply once full ownership is transferred to the applicant.
Here at emptyhomes.ie, we understand that homes can become vacant for many varied reasons, and tracing the owners of these properties can be a daunting and sometimes seemingly impossible task.
If you are interested in purchasing a vacant property, we can help you try to trace the owners of the building so that you can approach with a view to discussing purchasing the property under Croí Cónaithe.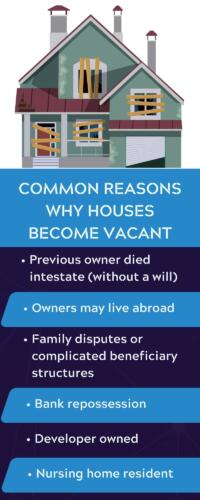 How can emptyhomes.ie help you?
At emptyhomes.ie, we have specialist knowledge in tracing homeowners. Our experts work with the the legal profession, local authorities, state agencies, An Garda Síochána and estate agents to trace home ownership. We also work with private individuals who are seeking to find the owners of vacant properties with a view to making an offer on the property as a primary dwelling or family home.
What we need from you?
One of the most important things you can provide is the Eircode of the property. This allows us to accurately begin our work in tracing a property's owners.
The Eircode website is easy to use and allows you to search using a map or address. Once you have the Eircode, you can log it with us and request a property ownership search.
If you are unable to find the Eircode or if an old derelict property does not appear to have an Eircode assigned you can take photos of the property or site and along with a description or the nearest address, send them to us.
We also ask you to provide as much local knowledge as possible. This may be the family name or information on the last people who lived at the property.
Confirming Property Ownership
Once you've found the Eircode of the property you are interested in or have enough details to help us begin our ownership search, you can log the property using our 'Enquire about a Property' button.
Please provide as much information as possible with your query and we will use this to do a free preliminary search. Following our preliminary search we will contact you to discuss how the process may work for the property in question.
As each property is different, we have different research packages available. If ownership details are readily available we will provide this for a small fee. If we expect the establishment of ownership may take detailed research we will go through the options available with you.
Our goal is to provide a quick and efficient service to help you get in touch with the owner of a vacant property and take advantage of the Croí Cónaithe scheme.